The Custom Filters Metadata Type allows you to define custom filters for use within the Akoonu app. These filters are added directly to the SOQL queries powering the views, so you have a great deal of flexibility in creating your own filters.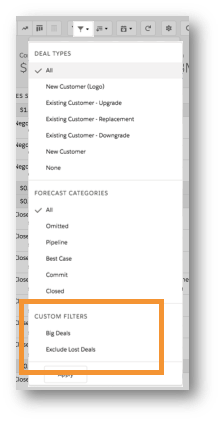 Add new records to create custom filter options to use in the app, including within saved views.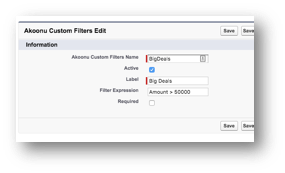 The Filter Expression will be directly included in the Opportunity SOQL queries
To test your query, use the Developer Console Query Editor (or similar tool) and run a query like this: select Id, Name from Opportunity where <your-expression>
You may use parenthesis for Boolean operations in your expression. For example: (Amount>50000 OR Probability>75)
Filters marked as Required will automatically be applied to all views and can not be removed by the User.
If a user selects multiple filters at the same time, the filters are applied as AND operations. For example, if three filters are selected, the combined effect will be "filter1 AND filter2 AND filter3" in the query.