Full Hierarchy Visbility
By default, users will only see their part of the role hierarchy, meaning their role and those roles below them in the tree.
A Permission Set called Akoonu Pipeline Review Manager contains one Custom Permission packaged with the app.  This permission gives users full visibility of the hierarchy, regardless of their own role. 
If you would like to allow some users to see the entire Role Hierarchy, regardless of their own role, grant those users this permission set via the standard user and profile management in Salesforce.
Notes:
This custom permission will automatically be added to the System Admin profile (or which ever selection you make during package install)
The user(s) must also have access to all the deals for the data to show up correctly in the views, headers, and subtotals.  
This includes visibility the Org Level node when that option is enabled too.
Org Level Node
If your Role Hierarchy has more than one top level Role, you will not be able to see the entire pipeline because the views are automatically selected for the Current User who will only be able to see their part of the Role Hierarchy.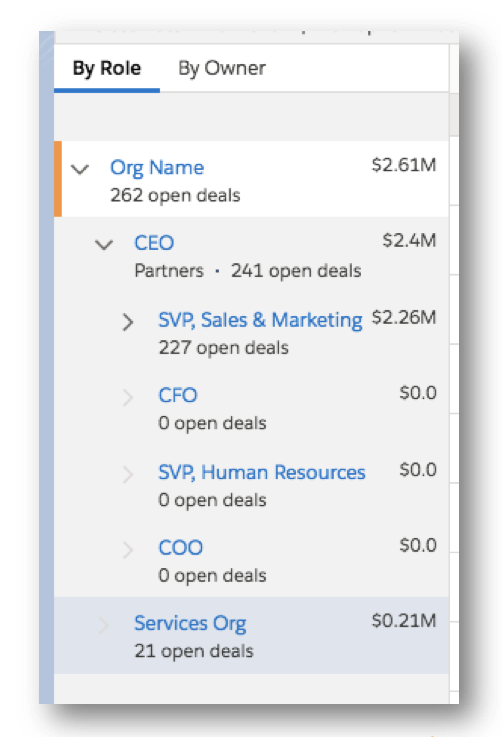 To Enable a "Org Level" node at the top of the Role Hierarchy, enable the setting for:  "Show Org Level Role for Direct Children". This is located in the Akoonu Settings Metadata Type.
When enabled, this will show an Org Level node in the role panel, with all the direct children visible.
This will only be shown for users in a role that is a direct child of the Org level node.