The View Menu in the top left of the application is used to specify which date range, and possible which set of saved filters to apply to the pipeline data.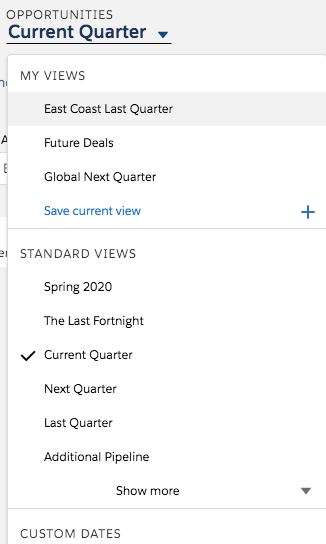 The Akoonu Standard Views metadata type allows administrators to configure the Standard Views shown in the View menu.  Administrators can activate/deactivate Standard View items, re-order the view items, and create their own Standard Views for their users to use based on either Custom Dates or a Relative Date Range.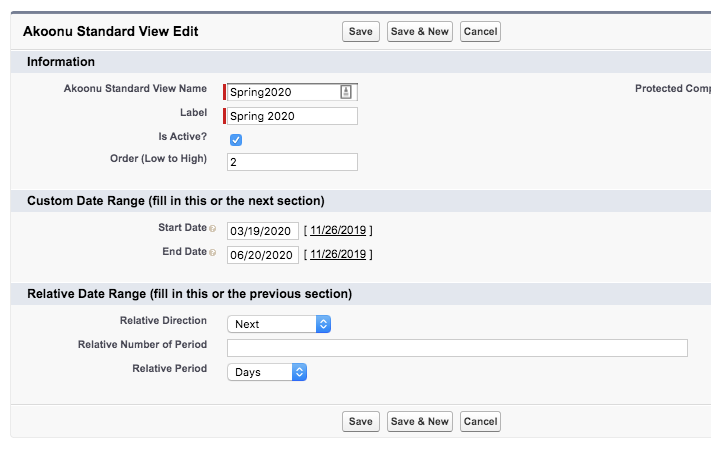 The metadata record contains the following base fields:
Name – the system name for the record (not seen by users)
Label – the name used in the View menu
IsActive? – if checked, this item will be shown in the View menu. If unchecked, it will not be shown.
Order (Low to High) – this field allows you to re-order the out-of-the-box and any added views in the menu. The items will simply be shown in order based on this number, low to high.
You can specify the Date Range as either a specific Start and End Date, or as a Relative Date Range. Only fill in ONE of these two sections. If both are filled in, the Start and End Dates will be used.
Custom Date Range:
Start Date – the starting date of the range (inclusive)
End Date – the ending date of the range (inclusive)
Relative Date Range:
Relative Direction – you can select a period forward or back from the current date
Relative Number of Period – how many of the specified periods to include
Relative Period – you can select which time period to use: Days, Weeks, Months, Quarters or Years. Note that the Months, Quarters and Years are fiscal periods, and are therefore be based on any existing custom fiscal year configuration.
For example, one could add a new Standard View called "The Last Fortnight" that specifies the time period of "This and Last 14 Days", or a view called "Spring 2020" that specifies the date range of "March 19, 2020 to June 20, 2020″.  See the documentation for setup details.