This view shows how the pipeline has changed over a period of time, allowing you to inspect the changes at an aggregate and a deal by deal basis.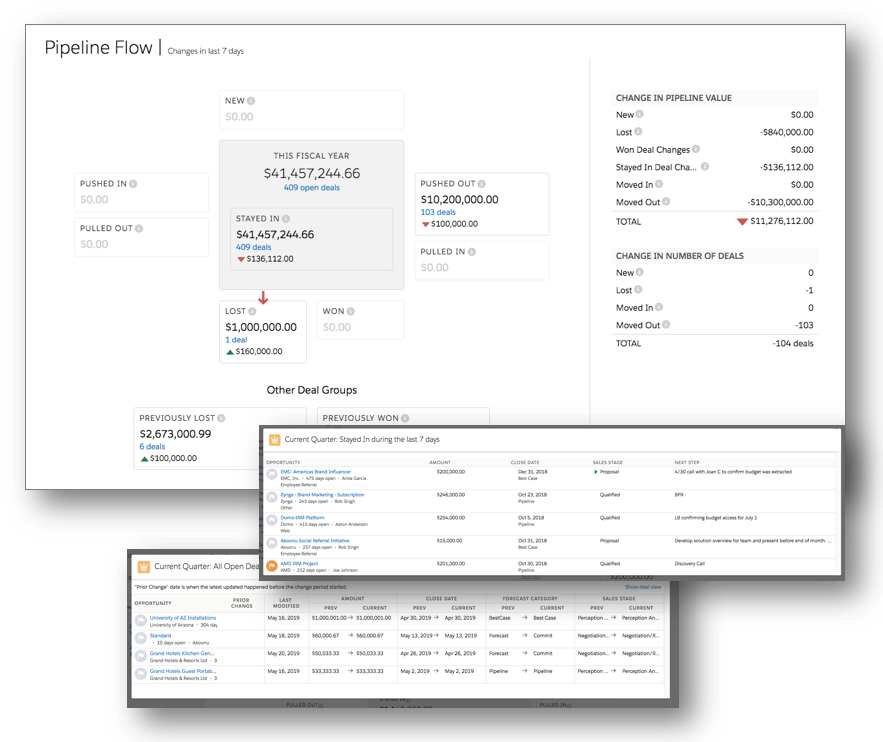 Features
Shows how deals have moved during a period of time (i.e., Last 7 Days) in your Pipeline


Summarizes the "flow source" of the currently open pipeline


Configure "Closed Other" Sales Stages to segment out administratively closed deals.


Show in both flow and summary format


Total net change of Pipeline value and number of deals computed


Choose the Change Period from the Toolbar menu


Click to drill down to specific groups of deals.  This popup view includes view options for the current state of the deals, or for the deal change details


---
"Closed – Other" Configuration
Sometimes deals are closed for administrative reasons.  Perhaps the deal was merged with another one, or determined to be a duplicate.  These actions should not be classified as either a Win or a Loss.  So a categorization has been added to the Pipeline Flow analysis to separately capture these administratively closed deals.

An Akoonu Settings metadata configuration called "Closed – Other" allows you to specify a set of StageNames for Closed deals that have been closed for administrative reasons (vs. a win or a loss).  This could be for Closed – Merged, Closed – Duplicate, Closed – Indecision or whatever reason an organization may have for removing a deal from the pipeline, but not counting it as a win or loss.

In the Pipeline flow view, a box called "Closed – Other"  will be used to show this bucket of deals. You can rename this box in the metadata setup.
---
Basic Group Definitions
For the sake of explanation, consider the report when the date is Feb 15th, the view "Next Quarter" is selected (April 1st – June 30th) , and the Change Period is the "Last 30 Days"
New – Deals created in the "Last 30 Days", that have or had a Close Date within the Next Quarter


Lost – Deals with a Close Date within the Next Quarter, that were marked as Closed Lost in the "Last 30 Days"


Won – Deals with a Close Date within the Next Quarter, that were marked as Closed Won in the "Last 30 Days"


Pushed In – Deals with Close Dates that moved forward into the Next Quarter within the "Last 30 Days" (i.e. from Feb 1 to May 1)


Pulled Out – Deals with Close Dates that moved backwards from the Next Quarter within the "Last 30 Days" (i.e. from May 1 to Feb 1)


Pushed Out – Deals with Close Dates that moved forward from the Next Quarter within the "Last 30 Days" (i.e. from May 1 to August 1)


Pulled In – Deals with Close Dates that moved from the future into Next Quarter within the "Last 30 Days" (i.e. from August 1 to May 1)
---
Additional Group Details
In order to capture all of the possible changes to a deals, additional groups may or may not display based on the data and view parameters
For the sake of explanation, consider the report when the date is Feb 15th, the view "Current Quarter" is selected (January 1st – March 31th) , and the Change Period is the "Last 30 Days"


Previously Won – Deals with a Close Date within the Current Quarter, and were marked as Closed Won before the "Last 30 Days" (i.e. Close Date is Jan 10, marked as Close Won on Jan 10)


Previously Lost – Deals with a Close Date within the Current Quarter, and were marked as Closed Lost before the "Last 30 Days" (i.e. Close Date is Jan 10, marked as Close Lost on Jan 10)


Previously Won and Moved In – Deals that had been marked Closed Won in a previous time period, and moved into the Current Quarter. (i.e. The Close Date was Dec 1 and the deal was marked as Closed Won on Dec 1. On Feb 10, the deal's Close Date was moved to Feb 10)


Previously Lost and Moved In – Deals that had been marked Closed Lost in a previous time period, and moved into the Current Quarter. (i.e. The Close Date was Dec 1 and the deal was marked as Closed Lost on Dec 1. On Feb 10, the deal's Close Date was moved to Feb 10)


Previously Won and Moved Out – Deals that had been marked Closed Won in the Current Quarter, but before the "Last 30 Days", and then moved forward out of the Current Quarter. (i.e. The Close Date was Jan 10 and the deal was marked as Closed Won on Jan 10. On Feb 10, the deal's Close Date was moved to August 10)


Previously Lost and Moved Out – Deals that had been marked Closed Lost in the Current Quarter, but before the "Last 30 Days", and then moved forward out of the Current Quarter. (i.e. The Close Date was Jan 10 and the deal was marked as Closed Lost on Jan 10. On Feb 10, the deal's Close Date was moved to August 10)