The B2B buyer's journey has changed. Today, buyers have much greater access to information, read an abundance of content, are active in social networks, are always connected, and are more educated than ever before. So how does this affect the B2B marketer?
This means that content marketing is a growing priority for B2B marketers.  B2B marketers can no longer simply focus on selling their product.  They must now have a better understanding of their buyers and support their needs at every stage of their buying journey through relevant, valuable content.   Today's B2B marketer needs a buyer-centric mentality and approach in order to successfully engage and convert prospects.
The Buyer-Centric Approach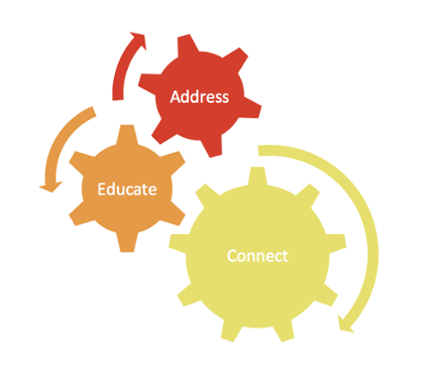 Control has shifted from companies to buyers. To address this challenge, marketers must attract their audience by addressing their needs, providing them with expert insights, and connecting with them on a deeper emotional level.  Taking this buyer-centric approach will ensure you build a trusting, engaging conversation with prospects that resonates with them and enables their buying process.  If you only focus on pushing out your sales pitch, buyers will quickly cross you off of their lists before they even speak to you.
Building Confidence and Trust
Buyer-Centricity is about providing your buyers with the information they need to move along their purchasing path. In our post, Content with a Purpose Part 1: Framework for B2B Content Marketing Success, we highlight 5 essential content classes. Each content class is defined by its purpose, or the specific effect on the buyer that it is aiming to achieve.  The first two content classes in our framework are Informational and Contextual. The purpose of informational content is to build confidence and knowledge in your product. It includes data sheets, product pages, and press releases and helps your buyer understand how your product fits their needs, how it works, and how it resolves their problems.
The purpose of contextual content is to build confidence in your company and its position in your industry. Contextual content highlights best practices and market insights and includes blogs, whitepapers, webinars, and contributed articles. It proves to your buyer that your company is the industry expert and that they can trust you for the best innovations and advice.
Informational and Contextual content gives buyers the essential foundational information they need in the first half of their buying process.  It addresses their concerns, educates them, and helps begin the conversation.  By providing content that is valuable to their decision-making, you prove that you understand their requirements, and you establish trust and confidence.
Affinity
Buyer-Centricity is not just about providing information to your buyers, but also connecting with them emotionally.  A third class of content we highlight in our framework is Emotional.  The purpose of emotional content is to create feelings of goodwill and affinity in your buyer. Emotional content highlights anecdotes of everyday life that people can relate to and includes images, videos, and blogs. It causes buyers to connect with and feel good about the company.
Creating an emotional connection with your buyers is vital to keeping them engaged. This is where the art of storytelling can really shine and create an impact.  For example, including a video on your blog about how your company's solution enabled its customer to successfully deliver food to thousands of people left homeless after a devastating tornado will leave a lasting impression on your buyer.  They'll go from thinking they can work with you to feeling they want to work with you.
Where to Begin: Buyer Personas
So you know you have to take a buyer-centric approach to your content marketing efforts. But where do you start? Buyer personas, that's where!
Sure, you already know the importance of personas and have probably created buyer persona profiles before.  But today's demands require much more in-depth buyer personas than have existed in the past. It may sound daunting, but it's not. It just requires doing your homework, and the results will be profound.
Creating content that builds trust and affinity begins with knowing your audience at a truly insightful level.  This requires building buyer personas that reveal each of your target buyers' needs, challenges, solution requirements, preferences, roles, responsibilities, and more (see our post on the anatomy of a rich buyer persona profile).  Understanding your buyers at this deeper level will be absolutely vital to guiding your creation of quality content that resonates and connects with your buyers.
Ultimately, your buyer personas will be the foundation to developing valuable content, creating compelling messaging, and enabling personalization. Most importantly, knowing your audience and how they buy empowers marketers to create a trusted dialogue with prospects through buyer-centric content that addresses, educates, and connects.
For more information on our content class framework, download the free ebook, 5 Vital Classes of Content.