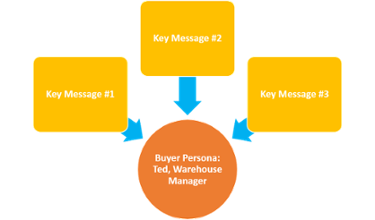 Building rich buyer personas gives you a much deeper understanding of your buyers – their goals, objectives, buying roles, preferences, challenges, and much more.
But once you've built your buyer personas, how do you actually apply these insights to your content marketing strategy?  Well, there are many ways, but for this post we'll discuss how to identify main messages and content themes that will help you plan and write content twice as fast.
Note: If you've built your buyer personas leveraging an in-depth framework, such as the 6 Essential Layers Comprising an Insightful Buyer Persona, it will be significantly easier to evaluate and apply your data.  
Your Solution's Strongest Features and Benefits
Begin with listing the most significant features and benefits your solution offers to customers.  These do not all have to be differentiators.  For example, let's say your company, Lyftz, provides warehouse technology that helps streamline product distribution.  Your list may include:
Easy to use, enabling quick training time for new users
Configurable workflow tools enable quick integration with other systems without expensive or time-consuming customizations, as well as the ability to quickly adapt to technology or process changes
Real-time communication toolset improves speed at which products move through the warehouse from ordering to delivery
Precise data recognition capabilities ensure near flawless accuracy of product delivery
Substantial increases in speed and accuracy enhance customer relationships, reduce costs, and promote growth
Advanced analytics highlights where to improve speed and accuracy of product distribution
15 years of helping industries optimize their warehouse operations
What's Most Important to Your Buyer
Next, leveraging your framework for building your personas, evaluate what's most important to your buyer.  As an example, the following chart organizes buyer insights by layer and persona attributes, and is a snapshot of just how in-depth your buyer insights can (and should) be when building your personas the right way.  Regardless of your industry, it's critical that you gather as much depth as possible on your buyers when building your personas, which is why interviewing Sales – and especially interviewing customers – are such crucial steps (also see building insightful buyers personas through collaboration).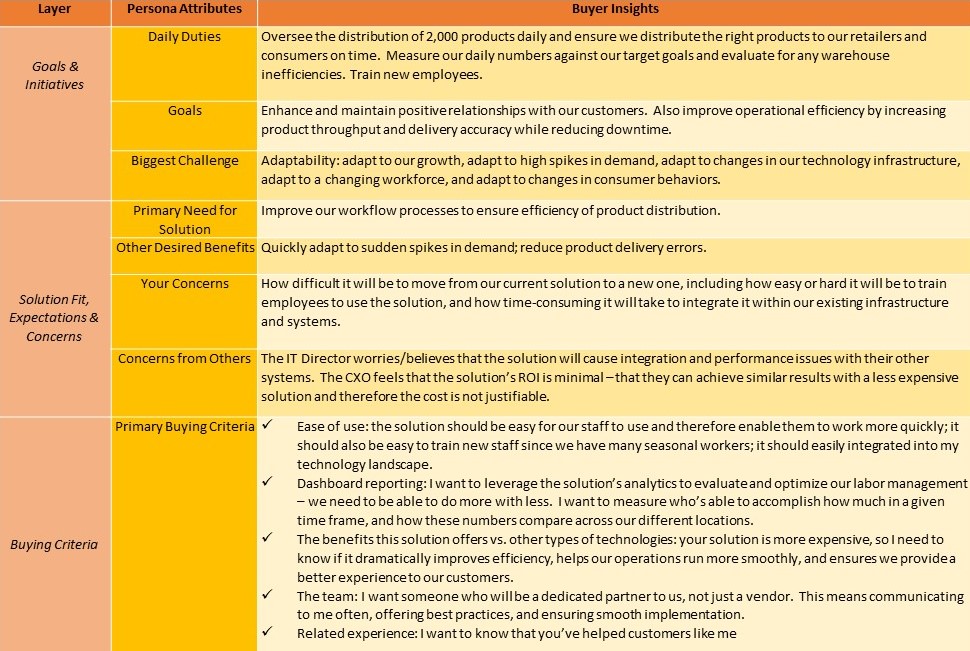 Align Buyer Needs with Your Strongest Features
Now, list by priority, your buyer's needs and wants that correspond with your solution's strongest features and benefits and draft a compelling message for each.  These messages will guide your main content themes.  By aligning your solution's features with the needs and interests of your buyer, you will create content that is useful to them and that will help persuade them during their purchasing process.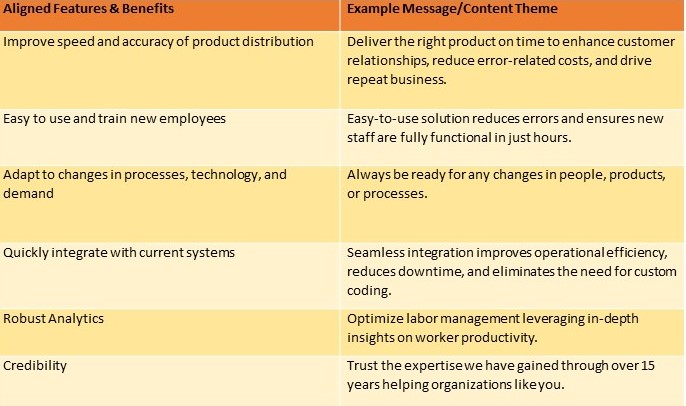 Finally, you can now create content that provides more specific information within these main messages and themes leveraging the details you've gained from building your buyer personas, particularly those details you gather from interviewing your customers (see our post for examples on how customer interview responses reveal rich buyer insights).
Building in-depth buyer personas and then evaluating these insights to determine how you will leverage them may seem complex.  I assure you, it's not – especially if you're leveraging a product-based persona solution that makes your data easily accessible from just one place.  Building personas, which is the most foundational component of a buyer-centric content marketing strategy, will save you significant time planning and creating content.  In fact, one company noted that the insights it gained from interviewing customers and building personas made its content brainstorming sessions 4x faster.  And what content marketer wouldn't love planning and writing better content faster – content they know that both buyers and Sales will love.