We're pleased to announce today the general availability of our cloud-based content marketing platform – the industry's first solution empowering B2B marketers to drive an integrated, data-driven content marketing strategy.  Our built-in best practices and customizable frameworks enable marketers to develop and integrate rich buyer personas and journey maps that yield truly in-depth knowledge of their buyers and their buying process.  Armed with these insights, marketers can more efficiently create high quality content that inspires their buyers into action.
In a world where content drives buying decisions and multiple people with varying roles are involved in the purchasing process, creating high quality content that fuels buyer engagement is complex.  It requires a strategy that begins with knowing your buyers inside and out. This is why comprehensive buyer personas and journey maps are the necessary foundation to a successful content marketing strategy.
But while many solutions exist for creating, managing, and distributing content, no solutions have existed for that crucial first step – creating and documenting an effective content marketing strategy that informs and improves the entire content lifecycle. And as a result, content marketing isn't as effective as it can be.  As marketing practitioners and technologists ourselves, we saw the need to address this gap and help companies realize the power of high quality content.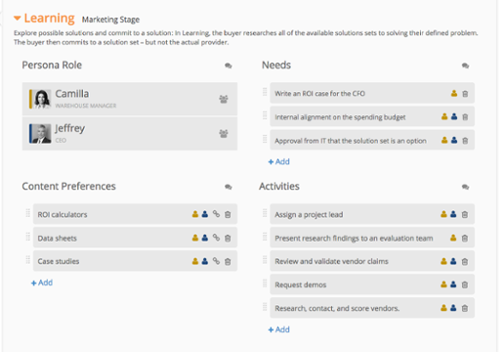 So, we developed a technology-enabled approach to building rich buyer personas and journey maps.  We transform personas and maps into actionable insights that everyone across Sales and Marketing can access and collaborate on in real-time. Our features and capabilities include:
Conduct Research:  Data analysis, primary research, and interview tools to gather critical buyer insights.
Build Your Strategy: Built-in best practices and customizable frameworks to build comprehensive buyer personas and buyer's journey maps.
Integrate and Collaborate: Connections to business data and everyday Sales and Marketing tools to activate your personas and journey maps organizationally.
Our benefits include:
Create better content faster: More rapidly plan and create high quality content leveraging deep buyer insights.
Boost brand authority and convert more leads: Create targeted, buyer-centric content that strengthens brand credibility and leverage it at the moment in the buying journey it has the most impact.
Align Sales and Marketing: Collaborate and unite around a common understanding of the target audience and how they buy.