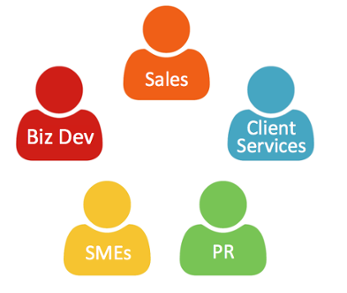 Looking for content ideas?  If you're a content marketer, that question is almost certainly a giant YES! There's no better source of content ideas than your own customers.  Interviewing customers when creating case studies, buyer personas, or buyer's journey maps provides a wealth of invaluable intel for content ideas and creation.  But in addition to your customers, there are folks sitting right next to you at the office you should be chatting up.  Their insights can help you create valuable content – anywhere from unique thought leadership articles to practical how-to-tips.
Here are 5 colleagues you should be talking to for content ideas and why.
Sales
Your sales team speaks with so many prospects and customers that they have an excellent point of view on key issues facing your buyers.  They'll have an aggregated view of buyer concerns for not just buyers that became customers, but also prospects who didn't choose your solution.  Armed with this knowledge, you will know what objections you need to tackle head on in your content. As an example, I interviewed a sales rep for buyer persona development who informed me that a common buyer concern was employee training time on their solution (critical since they have many seasonal workers).  We wrote an article highlighting 5 myths of training on solutions like theirs and tips to ensure it's a seamless process.
Sales will also have aggregated knowledge on what buyers are looking to learn when they engage with them, or what questions they typically ask. For instance, they may be finding that a high number of buyers are asking for a particular type of case study, or that particular buyers have requested if your company or product addresses specific use cases or challenges that they're looking to tackle.  This information indicates trends that are of interest to your buyers.
Client Services
In particular, Client Services will have an awesome perspective on buyers' current and future solution needs and uses.  This includes: common needs/problems the buyer has that they need your solution and team to address, primary use cases the buyer wants to address with your solution, what capabilities within your solution the buyer values most and why, what insights, tips, or best practices they're most interested in, and any trends in upcoming initiatives they're addressing.
They'll also become familiar with buyers' experiences and perceptions, such as prior experience with solutions like yours and certain perceptions about your solution and/or solutions like yours in general.  This is helpful for drafting content that debunks myths, or content that buyers can relate to.
Public Relations
PR religiously reads industry publications and therefore gains a very strong understanding of which relevant, timely trends buyers care about and that therefore their companies should speak to.  They also monitor competitive coverage in these publications, giving them insights into how others are positioning themselves as experts in these trends.  They're familiar with the editorial calendars of these publications as well, which are also good indicators of topics buyers find valuable.
PR also talks to reporters weekly or even daily.  Since reporters are speaking with thought-leaders, as well as their readers (the buyers) constantly, they can provide great insights to PR, such as what they're hearing from their readers as interesting topics, what questions readers have been asking, what concerns they have, etc.
Your PR person almost always listens to interviews taking place between the reporter and their company's subject matter expert (SME).  And sometimes, a customer participates in press interviews as well.  These interviews are a goldmine of incredible content-worthy information.  Reporters, as they engage in conversation, will reveal what they're hearing from their readers.  They'll also ask questions you may never think of, thereby drawing more valuable information from the SME. In short, PR has their ears to the ground – so ask them what they're hearing!
Subject Matter Experts (SMEs)
Your internal SME may be a general manager of a business unit, head of product, or the CEO.  SMEs are forward-thinking.  They have big ideas and know what trends are upcoming that most buyers aren't even talking about yet and how best to address them.  They frequently network with other thought-leaders, participate in roundtables, attend events, and speak with peers to gain insights on things not quite yet getting a lot of attention.  SMEs also tend to speak with companies who are on the leading edge of new technologies, trends, and business practices.  This is why they're great to speak with for true thought leadership articles and whitepapers.  Ask them what hot topics they're hearing amongst their peers, and what seems to be popping up at industry roundtables.
Head of Business Development/Partnerships
Like your SMEs, these folks are constantly networking and talking to peers.  They'll have ideas on how to integrate issues you're writing about with complimentary issues where you may have an opportunity to co-author ebooks, articles, and blog posts with friendlies in your industry.

Whenever you interview those around you for content ideas, be sure to leverage the insights you have from your buyer personas, buyer's journey maps, and your own industry research – this will help you facilitate better input sessions, and they provide the basis for leveraging the input you gain from your team.  Taken in all together, these insights will ensure you create high quality, buyer-centric content.
Read our Whitepaper:
How to Create In-Depth Buyer's Journey Maps