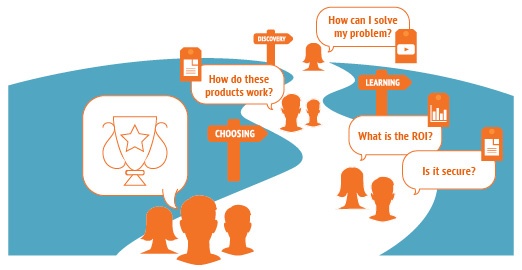 Good Technology worked with consulting agency New Business Strategies to build journey maps in an effort to align Marketing and Sales to their buyers' preferences. The results – a 100% increase in marketing generated pipeline, a 40% increase in lead velocity, and a 200% increase in content productivity.
The B2B buying process
The B2B buying environment is drastically different from what it was even just a few years ago. Today, content is the primary way buyers become aware of, learn about, and select solutions – and they expect high quality, buyer-centric content at each step of their journey. Buyers are now in control of their buying process. They're not waiting for vendors to direct them. Instead, they're guiding themselves through the majority of the purchasing process and using content to do so.
A B2B buyer's buying journey begins with a pain point – a frustration, an inefficiency, a missed opportunity, or an excessive cost. One person may have the pain, multiple people may have the pain, or everyone at the company may have the pain. They start conducting research to educate themselves on this pain and determine that it's worth addressing. They then begin identifying and learning about different vendors and their solutions, evaluating who aligns to their business challenges. Buyers ultimately select a solution, execute a purchase, and finally deploy and use the solution.
As individuals and as a team, B2B buyers gather crucial information throughout their purchasing process from industry analysts, influencers, bloggers, tradeshows, social networks, peers, and vendor websites. As a marketer, you play a critical role in this process by providing valuable content to the right people at the right times in order to best serve their needs and influence their decision-making. And you do this by truly understanding, at an in-depth level, your buyers and how they buy. It's this knowledge that empowers you as a marketer to provide compelling content experiences that connect and engage with all prospects each step of the way and ultimately inspire them into action. This is effective content marketing.
The foundational elements of your content marketing
In a world where content drives buying decisions and buyers expect high quality content experiences throughout their entire journey, continuously creating content that fuels buyer engagement is complex. It requires a deep understanding of your audience. This is why comprehensive buyer personas and journey maps are the necessary foundation to successful content marketing.
Buyer personas are representations of the actual buyers influencing or making decisions about your solutions and are based on real people, data, insights, and experiences. Each buyer persona has its defining attributes, such as goals, challenges, buying role, buying criteria, and more. It's what makes them unique, and that's why you need to market differently to one persona versus another.
A buyer's journey map is a framework that describes the steps, in detail, that your buyers execute from initial consideration of a solution to purchase decision and finally to implementing and using. Buyer's journey maps are not vendor checklists detailing what Sales has to say or provide and when they have to do it. In today's buyer-centric B2B environment, vendors can no longer view the buying journey from their own perspective. Rather, buyer's journey maps detail the collective path – from the buyer's point of view – that each buyer persona, as well as all personas together as a group, go through to solve their business challenges. Journey maps give you a rich understanding of how your buyer personas discover, learn about, and choose solutions, and over time how they use these solutions to overcome challenges and improve their business
As an example of the power of buyer personas, Julian Archer of SiriusDecisions notes that one company's commitment to develop buyer personas fueled a 100% increase in sales qualified leads and a consequent 20% increase in reported pipeline opportunities and pipeline value.  Meanwhile, another company reported that leveraging persona insights, along with other actions that enabled them to deliver targeted efforts, resulted in a 70% year-over-year increase in revenue.
The more you understand your buyers' buying process, the more likely you are able to successfully align your content to buyer needs, facilitate their decision-making, and overcome any concerns they may have. You'll provide compelling content experiences – experiences that will be your primary differentiator driving conversions. That's why in today's B2B buying world, where multiple buyers with various roles are involved in the purchase process and the content experience is paramount, in-depth buyer personas and buyer's journey maps are essential.
Read our Whitepaper:
How to Create In-Depth Buyer's Journey Maps