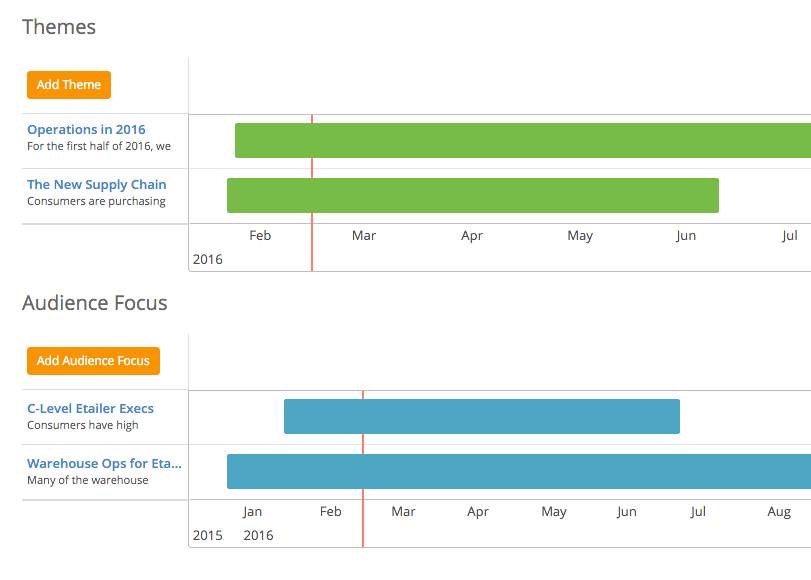 Most of us have seen study after study indicating that many marketers are disappointed by the results of their content. It's frustrating. You spend significant time writing the asset, it's typically well produced, and it has something interesting to say. But even so, it doesn't perform well. The thing is, your content may very well be a great read, but if it's not relevant to your buyers' needs at a specific point in their journey, they're not going to read it. And even if they do, it's not going to inspire them into action.
Creating content that generates results begins with strategic, buyer-centric content planning that is aimed at satisfying the needs of buyers at each step of their buying journey. That's why this week at Akoonu, we launched a new module on our platform that lets marketers develop strategic content plans from ideation through fully detailed briefs. Through integration with our existing module for developing journey maps and personas, marketers can tag each content idea to the persona, journey stage, and journey stage need it is relevant to. But more importantly, you can leverage these buyer insights to inform each step of the content planning process and ultimately the development of the content – enabling you to create high quality content that engages, nurtures, and ultimately converts.
Learn more here about how you can use Akoonu's Content Planning module to plan content by persona and journey stage, and use it conjunction with our freemium Audience module for developing insightful personas and journey maps. 
The same day we launched our new module, I read a great post by Tim Matthews in the Content Marketing Institute blog that stated his own personal journey to realizing why content is "the way to win your buyers." In it, he called himself a former "content marketing curmudgeon" who dismissed the content marketing trend for years. He said,
"What really cemented my change of heart was thinking about how I buy – my buyer journey.  When I realized that as a marketer I had to take the buyer more than halfway through their buying cycle, I realized I needed to create my own content for the online buyer, and not marketing collateral for a salesperson to leave behind."
The nature of today's buyer's journey and the significant role content plays in it is why every company needs strategic content planning. Whether you're creating awareness and demand, nurturing leads to close, or improving the customer experience, engaging content is central to all of your marketing execution.  In fact, everyone across marketing is responsible for creating engaging content and/or effectively leveraging it. This makes your strategic content plan an essential element to your overall marketing strategy, not just your content marketing one.
As you drive or participate in your company's content planning, consider the following 3 key attributes that define a strategic content plan:
It's buyer-centric. Tagging your content ideas by persona and journey stage is important. But tagging is the step that comes later. First, your content plan must be informed by a rich understanding of your buyers and how they buy. Every single asset you produce has to be relevant to your buyers' needs, whether it's addressing a concern of theirs, providing them with best practices, or aiding their decision-making. Knowing these needs informs your content ideation, and armed with these insights, you can effectively plan and create content, from your buyers' point of view, that has a specific purpose.
It's balanced. As Tim stated in his post, "You have to create the content path from the beginning of the sales cycle (or buyer journey if you prefer) to end." Your content plan must be balanced to address purchaser needs across all audiences and journey stages rather than over-invest in one audience or stage in the funnel. It should also be balanced to meet the various business objectives you want to achieve with your content assets. So, for instance, you have the right mixture of content aimed at demonstrating thought-leadership, developing the pipeline, and nurturing pipeline leads rather than too much focus in one area. A balanced approach across audiences, stages, and objectives will ensure you're giving Marketing and Sales the content coverage they need to engage all buyers in all the ways they need to be engaged throughout the entire funnel.
It's aligned. Your content plan must align with what your business has decided are the most important themes that your company should speak to (and that of course are relevant to your buyers), and it should reflect what your team has agreed are top priority content ideas. Your content plan must also be aligned to your brand. Once an idea is developed into a brief, your brief should include any relevant brand standards for the asset to adhere to or include, such as style guidelines and targeted messages. This will ensure every asset your company produces, regardless of who's creating it, consistently embodies your brand.
If you're interested in learning more about how Akoonu can help you strategically plan and create buyer-centric content that differentiates your company, attracts high quality leads, and powers a high quality buyer's journey, schedule a demo.