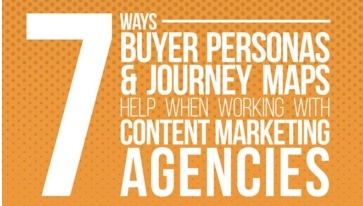 Your brand is unique. So are your audiences, and so are their journeys discovering you, engaging with your assets, and becoming your customer. Your content should appeal to specific groups of your audience while also being able to scale up and reach as many new segments of readers as possible.
Without dedicated teams for research, content creation and delivery, the task of creating detailed templates for how to best target and write for various audiences can be daunting.
That's where content marketing agencies come in. Armed with detailed buyer personas and journey maps, which help to laser-target specific audiences for every online asset, they are able to create original content and strategically distribute it in the proper places, and at the best times.
Whether you are targeting newcomers to your site, potential clients, or longtime customers, quality personas and journey maps don't just make your content higher quality, they can make your website two to five times more effective overall. Akoonu recently found that 82 percent of B2B marketers they surveyed said their buyer personas and journey maps "improved buyer understanding and content quality."
Common
worries
about bringing on a
content marketing
agency
A top concern for many brands when bringing an agency on board is that their industry space is too niche for external marketers to understand. They fear that an agency might know their industry, but not necessarily know the specifics about their company or customers.
When bringing on content marketing agencies, brands often wonder about the subjective quality of the product:
Will the agency

understand

the brand voice?

Will they strike the right tone?

Will they fully understand the intricacies of our business?

Can they learn enough about our customer base to be able to write high-quality original work for them?
The buyer persona is the tool that an agency can use to direct a brand's message to the most receptive and natural audience, and deliver that message at the best time and place to engage with them in their journey.
How will
personas
and
journey maps
help
optimize
your content?
Writing for clients as if they were writing for themselves is perhaps the greatest challenge for outsourced content creators. At Brafton, we've worked with thousands of companies since our U.S. operations opened in 2008 and currently work with over 700 customers. The lengths we go to learn about brand voice, style and tone can be surprising, even to the clients coming on board.
Writing to specific personas is tricky. It can be a subjective task and each persona's needs can vary depending on the stage in the buyer journey – whether they are discovering your brand, learning more about it or making their decision.
Utilizing personas can make it easy for an agency to connect your brand's messages with the right people – and at the proper time in their journey. Adopting personas and using them as guides for an agency's content creation and distribution helps to:
1. Save time and resources.
Whether you work with Brafton or another agency (or even if you hire writers internally), fully developed personas and journey maps can help you shorten the time that it takes to get a new writer up to speed on the nuanced elements of content creation. The more they know about who they're writing for, the more powerful and effective the writing will be.
Buyer personas highlight the intangibles that provide context, detail the most important members of your target audience, and help to humanize them.
2. Address the audience's specific challenges
Along with buyer journeys, personas highlight the needs that different buyers have at various stages of the buying cycle. Each persona's needs can be directly applied to topic-mapping and content creation, and the writer will be able to choose which format will be most effective for each piece – series of blog posts, an infographic, a video, a whitepaper, ebook, podcast or more.
3. Reach your reader base in the proper online venues and at the right times
Handing over information on audience patterns can be invaluable when bringing outsourced writers on board. The more a marketer can learn about their audience's patterns and daily behavior, the better equipped they are to reach them at the most effective time.
Providing a clear template of when and where to deliver targeted content will help to ease new writers into your brand's culture and patterns.
4. Take on work you don't have the bandwidth or in-house skills to deliver
The segments of your audience can vary dramatically as to which medium or format of content resonates most strongly.
Equipping an agency with a well-researched picture of the audience can deliver the optimal style of content for each segment, with the scale, resources and capabilities of a full agency.
5. Take a long–term view of marketing strategies
Nobody can be accurately described by one survey, one market research study, or one set of data. Using detailed, cohesive buyer personas and journey maps will paint a realistic picture of a brand's audience over time, throughout each buying cycle. Embracing a patient, detailed persona-specific approach to content creation will help businesses earn the ongoing success that eludes short-term approaches.
6. Capture actionable insights
An agency will provide analytical support to make sure their client is measuring the right things and trending in the right direction.
Online buyer behavior and successful marketing trends change rapidly. Agencies are well-positioned to be at the forefront of content marketing innovation. Working with 700 clients means 700 detailed reports on what works and what doesn't. And each report can make use of data from web traffic, social media activity, sales, shares and more. While no two audiences are quite the same, an agency-sized pool of data can shed a tremendous amount of light on the types of content that work best with certain audiences and delivery methods.
7. Identify an angle through which to market each piece of content
A detailed persona and journey map will shed light on the context of each piece of content, providing insight on how a target buyer will want an answer to their need framed.
If a persona skews toward the analytical end of the spectrum, the appropriate content for them would likely to be rich in research, data and statistics. A more artistic or creative reader might relate best to content told as a story with anecdotes, humor or animation.
When deciding whether or not to build buyer personas, put their value into perspective by asking yourself what they'd provide in the onboarding process with a new agency. If you're struggling to see the value, don't hesitate to register for our webinar where we'll walk through the best practices for building and applying buyer personas, and mapping them to the buyer journey.