Words to live by: be remarkable or fail.
Stellar content planning demands more than a steady stream of excellent ideas. Successful content marketing is based on the foundation of a structured, collaborative, and scalable content operation. Scaling excellence can be hard. It requires collaboration, respect and information sharing across teams.
As outlined in our 2016 Content Marketing Maturity Industry Benchmark Report, there are content marketing leaders that stand out in every industry. There's also a significant gap between average companies and leaders.  The report also outlines that organizations are, in aggregate, still relatively early on the path to content marketing maturity. What does this mean for you? There's a huge opportunity to reach a level that's a notch above the rest.
Of the hundreds of companies I've worked with on their content planning, one thing most have in common is the desire to be a thought leader.  Everyone is creating content, and most want to be the leader.  In this post, I'll be sharing tips for assessing content marketing operational maturity, and how to take yours to the next level.
You'll learn:
What aspects of your content operations to evaluate
How to choose top improvement areas and create attainable action plans
Tips for presenting your content operations planning to other departments or leadership
The three core steps below will help you assess your content marketing maturity and set improvement goals. Total exercise time is estimated as less than 30 minutes.
Step 1: Evaluate where you're at 
The first step to assessing your content operations maturity is to take inventory of where you currently stand. You'll assess your content operations across 12 key areas.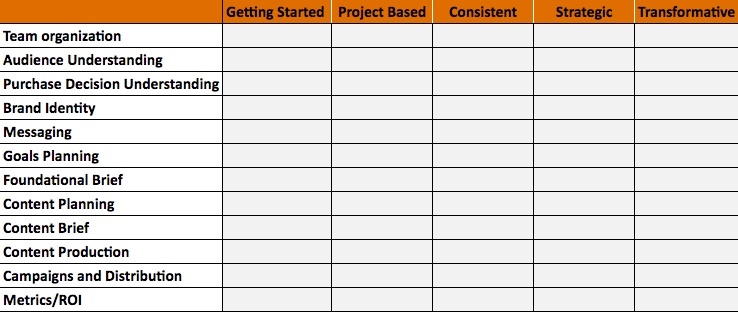 Here's two examples of how to evaluate:
 Let's look at Team Organization: "Getting started" might mean you have an all-hands-on-deck method, with no defined roles and tasks — but you're getting things done, whereas "Transformative" would be collaborative, cross team involvement on key goals that drive the team organization.
Let's evaluate Messaging:  Do you have documented messaging shared across teams? If so, you're "Consistent." Is your company messaging understood by internal teams, external agencies and freelancers and applied to all materials created? If so, you're "Transformative."
Step 2: Prioritize key improvement areas
Now that you've evaluated where you stand, identify your business' strategic initiatives in order to set the most impactful goals. Can content impact any of these areas? Choose the top 2-3 that best align with strategic initiatives.
Make sure one of these goals will help you to meet the goals of your specific job. For example, if you're a content marketing manager, you might want to focus on "Content Planning."  If you're currently "Consistent", planning your calendar within the marketing team, you might set goals to share your calendar cross teams for input before it goes into production, along with visibility into goals. This will encourage a higher level of buy-in from your colleagues expected to use your content, such as salespeople or demandgen.
Once you've evaluated, your chart will look something like this:

Step 3: Create and share your improvement roadmap
Now that you've identified your goals, choose at least one way you'll move that item forward in the active quarter
Outline any resources or people you'll need to be successful in achieving the goals
Share your roadmap with key stakeholders. Let them know you're taking ownership of moving your content operations into a transformative direction, and the active steps you'd like to implement to make measurable improvements in the next 3 months.
Make sure to schedule time to review progress with your key stakeholders. Get their feedback and then present them a new set of goals.
With a modest amount of self-assessment and solid amount of visibility, you'll see your content operations start trending towards "Transformative."
Exercise summary:
Evaluate your content operations
Choose improvement areas
Present to key stakeholders
Hold yourself to your goals
At end of goals timeframe, present results and get feedback
Not sure where to start? Instantly see how your content marketing is doing compared to your industry using our Content Marketing Grader.  
---