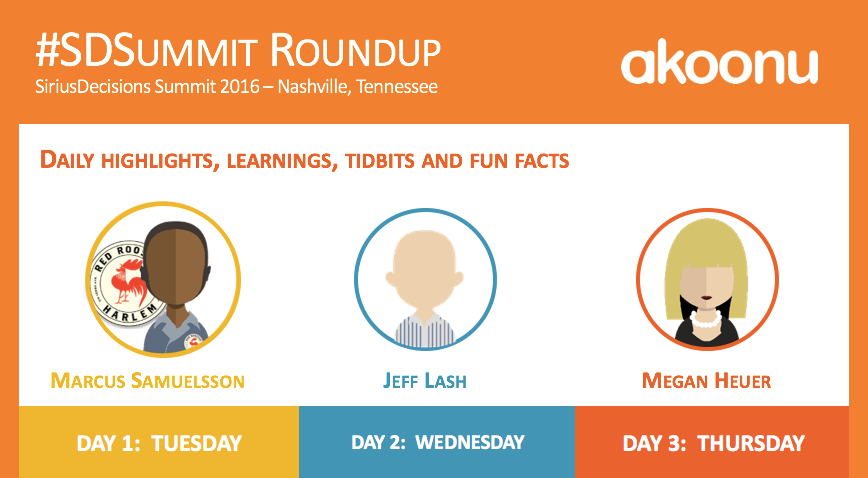 View full graphic
What a week in Nashville!  SiriusDecision Summit 2016 delivered as billed: new frameworks and best practices, compelling case studies, great connections and overall a fantastic assemblage of sales and marketing leaders working to advance their practices.  And the Barenaked Ladies even got on the bandwagon of "Sirius" puns with the on stage declaration that "we will not have anything decided here on a whim tonight."
#SDSummit has grown – it's too big for one person to capture all the trends, insights, and the experiences.  The following are three of my key takeaways, and I look forward to hearing the perspectives of others from the show.
Customer Journey
"Understanding what your customers want and delivering for it has never been more important."
Tony Jaros, Chief Research Officer at SiriusDecisions
And the numbers speak. A SiriusDecisions survey concludes that the number one driver of vendor selection is previous experience with the company. In fact, for B-to-B purchases, the "experience" related reasons far exceeded the "product and pricing" reasons for vendor selection.
This clearly indicates that the area of Customer Experience is worth a close look, and Megan Heuer's session on "B-to-B Customer Experience" did just that.  She really drove home the fact that the buyers' journey does not stop at the sale.  Rather, the buyers' journey is the first phase of the greater customer journey.  Journeys are near and dear to our hearts at Akoonu, so this session truly struck a chord and was perhaps my favorite session of the week.
What we continue to observe is that many companies focus on the buyers' journey and improve their go-to-market performance.  A good journey map will be the foundation of  sales and marketing orchestration throughout the funnel and pipeline, and it will inform the content, activities, and engagement needed to support your buyers.  But too many of these companies stop their journey mapping at the sale, leading to a customer experience that is fragmented, is inconsistent, and ultimately does not deliver to the needs of the customer.
The good news for organizations ready to roll up their sleeves and address this critical area is that the principles of mapping the buyers' journey can be directly extended to map the customer journey:
Know your buyer personas – your personas in the post-sales customer journey may have overlap with your buyer personas, or they may be a completely different set as the new solution is implemented and used.  Regardless, these personas must be understood at an in-depth level.
Map the journey – the journey continues post-sale into stages that will lead a customer from implementing the solution they just bought all the way through to the next best sale, expansion or renewal, and (hopefully!) to advocacy.
Understand the needs – the key to journey mapping is understanding the needs of each of the personas and each of the stages.  These needs can be informational needs, content needs, relationship needs, interaction needs, etc.
Armed with this understanding of the customer journey, teams can then begin the process of orchestrating the activities and people to best support the customer and deliver a truly exceptional customer experience.  And, unfortunately, there are no shortcuts.  As Megan points out you "need to understand who needs what when before looking at interactions and roles."
Focus on Buyers' Needs
A common theme across many sessions is the need to root marketing and sales execution in an understanding of your buyers' needs.  This was a great theme to hear over and over again – in an environment full of technology and data, and analytics and dashboards, success still comes down to understanding the people you are seeking to engage with and satisfying their needs. Harder said than done!  But it's truly the defining principle of being a customer-centric organization.
Regardless of how a company is growing, or desires to grow, everything must start with thinking about the buyer and customer needs.  Yet this is an area in which two-thirds of companies struggle (SiriusDecisions). Rachel Young and Jeff Lash presented the SiriusDecisions Needs Aperture as a methodology to help.  This model provides a means for identifying, prioritizing, and applying customer needs to achieve innovation and go-to-market success.
As reinforcement to Jeff's conclusion that "marketing should focus on personas' needs for positioning, messaging and campaigns," Marisa Kopek expanded on this same principle during her update to the SiriusDecisions Messaging Nautilus.
"Don't force the messaging to reflect the product capabilities – make sure that buyer needs come first"
Marisa Kopek, SiriusDecisions
This is a great starting point, and then by leveraging a framework and messaging process, you can ensure that each and every marketing communication is connected back to addressing a specific buyer's need.  Add additional insights from your personas, such as the content types they use and the activities they perform, and you can ensure that you deliver these targeted messages in the right way to resonate and engage with each of the personas in your audience.
Sales and Marketing Alignment
The issue of Sales and Marketing alignment is alive and well, unfortunately.  Many delegates reported that they continue to struggle to be on the same page as their counterparts, leading to the chronic issues of unused content, friction over leads, and the inability to orchestrate a holistic, consistent experience for their buyers and customers.
Yet, there is hope!  2016 ROI Award winners ServiceNow, Microsoft, and FIS shared their stories of breakthrough success.  Colin Day of FIS presented a great case study of the journey of transformation that led them to be an award recipient.  At the end of the day, their breakthrough success wasn't about "marketing magic" or a closely held "secret sauce."  Their success was from making a plan, having the discipline to rigorously pursue it over a period of time, and managing the organizational change required to make it all happen.
"It is all about the plan and the people.  Do not underestimate either."
Colin Day, Vice President, Global Demand Center
FIS
Their three prong approach to becoming a best-in-class organization consisted of establishing and implementing the right mindset, skillset, and toolset (afterall, the modern marketer does require technology to fulfill their duties), and Colin stressed the point that "culture needed to come before the development of any strategy."
These are the top three of many, many takeaways from the show.  And as with most conferences, some of my favorite moments were the new connections, sharing thoughts with fellow practitioners and providers, hearing others' adventures in sales and marketing, and reconnecting with former colleagues and customers.
And Siriusly, no more "Sirius" jokes, please.  At least not for a little while…