Sales leaders face a flow of disruptive technologies accompanied by a stream of intriguing buzzwords that frequently fail to inform. Navigating what's helpful and what's hype is crucial to strategic sales planning. Implementing something based on hype clearly comes with a risk, so determining which methodologies and tactics will best empower your sales teams to improve or scale is fundamental to making the best choices.  
Today we're breaking down a rising term in Account-Based Selling: Buyer Signals
Buyer Signals are data about buyer activities that help you know buyers are interested and possibly ready to buy a product or service related to your offerings. Buyer signals result from online buyer research as well as from direct engagement with your sales team.
Quick Rating: You can rely on them… if applied strategically.
What they are not: A future-predicting crystal ball or a silver bullet.
What they are: Information about buyer activity that—when aggregated meaningfully—can help you to reach the right people at your target accounts, at the best time. Signals may include:
Activities you can track with your own first party data such as visits to key topics on your website, email opens/replies, content downloads and shares and conversations with people at your company.
Activities that can be aggregated from third party data such as research on your category or competitors, popular search terms and social signals.
Who signals are triggered by (click to view larger)
There's a few key categories of people that can trigger a buying signal:
Unknown individuals at unknown accounts. In a silo, unknown individuals may just be a "click", a "visit" or a "number". They may not have filled out a form or accept tracking cookies, but they are researching and a real part of the buying process. Without more information, this alone is interesting, though not very actionable to Sales.
Unknown individuals at known accounts. While this may also be just a click or a visit, knowing if an account is visiting your site frequently is a buyer signal worth tracking.
Known contacts. These are the people you've identified as leads or contacts at accounts through some means, and become more valuable as the level of buyer signal increases.
Target Account aggregates.  This gets really interesting for Account-Based Sales organizations. Understanding how many people

—

and more importantly, which people and roles

—

are involved actively in researching your product or service can give tremendous insights.
When signals matter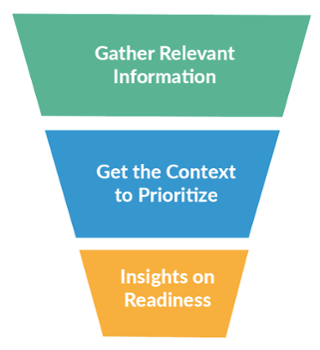 At the top of the funnel, they help you gather information about leads in accounts and who is interested in the topics relevant to your offering as well as your product or services
In the middle of the funnel, signals give you context on where to prioritize your time in pursuing a buyer. If the buyer isn't doing work to understand your offering or communicate with you, they may not be ready to engage
Late stage, the nature of the signals can give you a picture on how real a deal is and how ready a deal is to close. How many emails are going back and forth? Are more people from the account visiting your website? Signals like these can increase your confidence that the deal is real.
Putting buyer signals to work