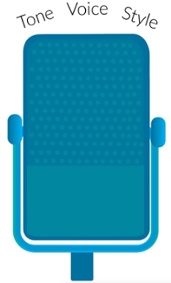 The hardest part about crafting a meaningful content voice is accepting that it's not about you—it's about your audience. Here's a process for getting it right.
Our natural instinct as marketers is to think the best voice mirrors what we personally respond well to, but that's not often case. Unless you're creating content about marketing for marketers who market to marketers… then you likely have some listening to do before you settle on a "style" or voice.
Tip 1: Accept that you are not your audience
Getting your bias out of this process is challenging, but absolutely critical. Mapping out what you think your buying audience prefers is an inherently flawed process because it still revolves around you. Accepting that you have bias, and understanding what your preferences are in advance will help set you up with the right mindset to move past it.
Tip 2: Talk to your audience
The quickest way to get to know your buyers is to actually speak to them. You'll want to set up interviews or feedback sessions and try to uncover:
What do your buyers care about?
What tone resonates with them?
What style do they prefer?
Is another company providing them content they find more valuable than yours?
It's important to have an honest conversation with careful listening on your part, not let your bias drive questions that tell you what you want to hear. You'll want to come up with a list of questions that conversationally elicit the information you need, but without giving too much clue about what you already think. Example:
Ineffective: "Do you prefer to share slideshows or images?"
Effective: "Tell me about the last thing you shared with your network on LinkedIn?"
Tip 3: Seek feedback
Talking to your audience once is a great start, but continuous dialogue and feedback will help you see past content performance metrics and understand if your content truly resonates. Take some time to plan how you will continuously encourage feedback, and a structure for how you'll implement the learnings.
Here's a few sample questions that we've used to when interviewing our Sales Executive audience.
Voice 
Just get them talking, you want to better understand vernacular and language used to describe common challenges.  Ask questions about typical behavior and listen for commonly used language across the buyers you interview.
If you could only hire sales reps for 3 attributes, what would they be?
Style and Format
Videos:
How long will you wait to see if a video gets interesting?
Do you prefer to see software in action?  Real people giving testimonials? Illustrative concepts? 
Infographics:
Will you scroll a longer graphic? Do you read sentences or scan?
Sales emails:
Tell me about the last sales email that positively grabbed you enough to respond to it (either by visiting the website or by responding to the sender)? 
Topics/Format/Channels
How much time do you spend before you decide to share a piece of content by email or social network? Do you scan vs read?
What is the reason you typically share a piece of content?   In this case, you're looking for things like:

To help someone learn their job
Because you're impressed with the insights
To change someone's way of thinking
If you're looking to develop a buyer-centric marketing strategy, check out our eBook to learn:
Frameworks for building the essential elements of a buyer-centric marketing strategy
How to leverage these elements to create targeted messages by persona and journey stage
Examples on how to apply strategy elements like personas and brand messaging to content marketing, product marketing, social media marketing, demand generation, and digital marketing