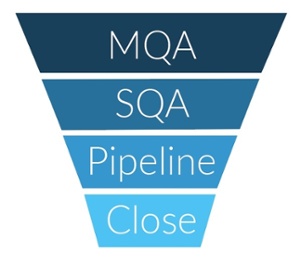 The tremendous investment in developing and qualifying opportunities in accounts makes understanding which are winnable essential to every sales team's success. When approached strategically, Opportunity Management is core to successful selling.  Yet, it is frequently mistaken for a process of keeping the pipeline current and managing data hygiene.  Instead, opportunity management is fundamental to evaluating and improving the likelihood of winning deals.
5 fundamentals of opportunity management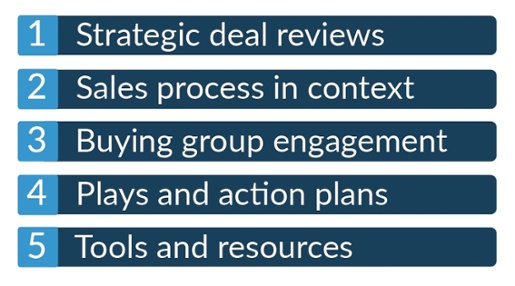 1. Start your review of opportunities with a strategic mindset
Every time you sit down to review an opportunity, start by evaluating where you are in the deal and what needs to happen next. Don't let the many elements and dependencies related to pipeline reviews dominate your focus. If your "opportunity management" practices mirror your pipeline inspections, you're missing out on a chance to bring deeper strategic planning and understanding to your deal reviews. Tactically you need updated data to make opportunity management productive, but data hygiene should be managed in a different part of your process. See tips on how to make data entry easier for your reps.
2. Put process in context of the opportunity
For each opportunity, it's important to connect your reps specific deals to the sales process and to your knowledge of the buyers journey. While you'll have a typical process and understanding of both, you'll want to dig into what makes each opportunity unique. Understand if your standard sales process is working, or if specifically for a given account that it may make sense to modify your process to meet buyer needs and advance your sale. In every case, you should be coaching to create an account-specific action plan that will help your rep win and close.
3. Evaluate buying group engagement
Finding time for the pursuit of good strategy can be a challenge, but helping reps understand opportunity-specific requirements based on the buyers they encounter is the fastest path to advancing deals to the next stage. Specifically, help reps with:
Reviewing specific contacts and leads to think about the buying committee

Do they know who is covering each role in the decision making process?
Is the champion identified?
Who is the economic buyer?
How will each contact evaluate the solution?

Engaging with all the right people at the right point in the deal

If the rep hasn't engaged with the right contacts, how will you help them find them?

Determining if the rep understands the motivations, needs and fears of each influencer or decider in the deal

If not, create the tactical plans for strengthening your rep's understanding
Make sure the rep can address the ROI or decision criteria needs of each buyer involved

Mapping out the competitive landscape

Does the rep have the resources they need to compete against other players in the deal?
4. Choose (or design!) plays and action plans
Give your reps a blueprint to win each deal. Once you've helped your rep uncover and understand the full buying group, evaluate which specific sales plays will help them to earn their buyers' confidence and solve buyers' problems. Map these out stage by stage in the process to make sure reps have a full tactical plan to win the deal. (Tip: document the plays so you can re-use them with other reps over time.)
5. Identify tools and resources
Last, make sure to discuss any resources needed—and from whom—to win the deal.
Every sales manager is pressed for time, but taking your reps through opportunity management discussions stage by stage, buyer by buyer, and helping them learn to address the needs of each buyer will not only help your reps win more deals, but also give them the coaching and tools needed advance their skillsets along the way.