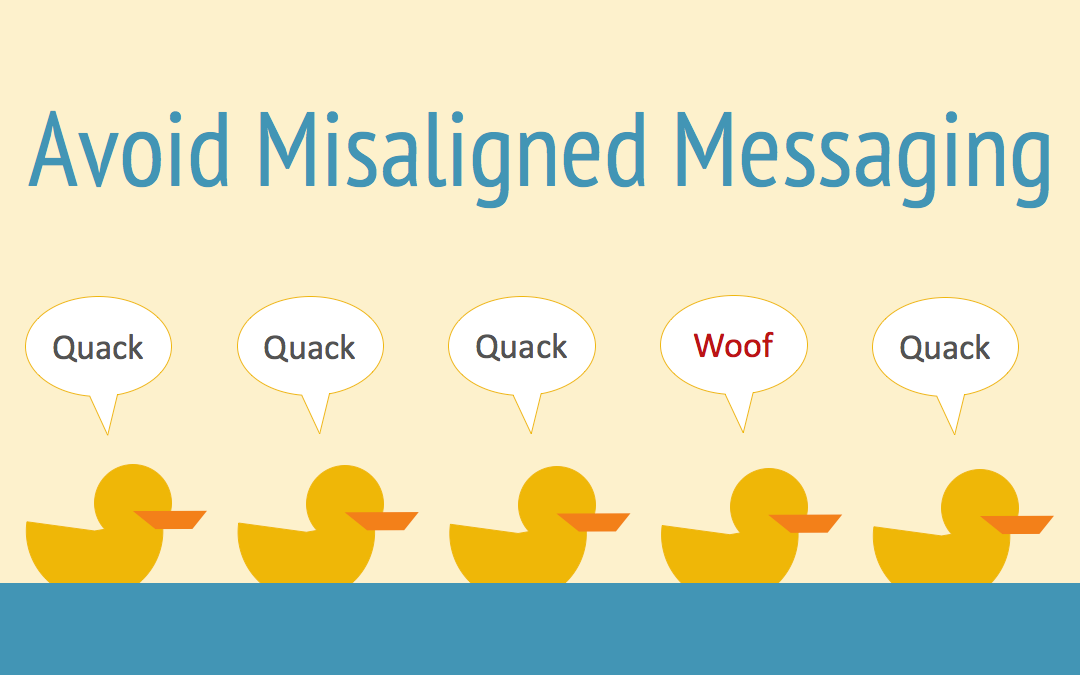 Messaging is one of those things most B2B marketers either love or hate. Or, more likely, love and hate.
Marketers know a strong messaging platform underpins all strategic communications to stakeholders. Yet, the majority of marketing organizations we encounter struggle to keep their messaging current and aligned. While we have the best intentions to maintain clear, current and consistent messaging across our products, programs and organization, it is not uncommon to discover messaging is out of date in one or more areas.
Given that messaging is developed at different levels—corporate, brand, product, etc. — and often by different people, it's no wonder that keeping messaging aligned is a challenge. Minding your messaging, to avoid the drift that naturally occurs over time, requires organizational discipline. One tactic marketing teams can use to keep messaging aligned is organizing their processes around the 3F's – form, function and freshness.
Form
You may be engaged in a major positioning exercise for your company. Or, you may simply be revising benefit statements and proof points to support the addition of new product capabilities or service offerings. Each of these is a messaging exercise, but the messaging groups are different forms — one takes place at the corporate level and the other takes place at a product level. Organizing your messaging by level brings clarity to what you are messaging for, who you are messaging to and which teams own producing the messaging. At Akoonu, we defined 5 distinct forms of messaging groups, including:
In a small company, there may not be a distinction between Corporate and Brand, whereas in large organizations, it is common for several distinct brands, with unique messaging, to exist in addition to the corporate brand.
Depending on your offerings and your go-to-market strategy, you may have messaging groups for one or more products, or messaging for specific solution sets or industry offerings. 
Each message group includes the individual messaging components it needs to be effective such as high level messages, benefits statements and proof points. And, of course, that last (and most important) step—creating targeted messages to connect with your audience, down to the individual personas and journey stages.
By defining these different forms of message groups, it is easier to achieve clarity and maintain messaging alignment.
Function
Function is the application of messaging consistently across your communications—in formal communications, in elevator pitches, in your website content, trade show banners—everywhere! By sharing the different forms of messaging groups across the organization, anyone that owns marketing or customer communications can be informed and empowered to apply consistent messaging. (For more information on how to apply messaging, you can also check out our eBook on The Essential Elements of a Buyer-Centric Marketing Strategy and How to Apply Them Across Marketing.)
Freshness
Freshness is maintained by setting up a systematic process for reviewing whether your messaging should be revised, overhauled or refreshed.
Revisions are modifications to the content of your messaging, such as adding support for a new product capability or an industry proof point. The messaging group remains largely intact, but new content may be added or existing content may be modified.
Overhauls occur when you fully change the content of a messaging group and you may also change style or tone, depending on whether the messaging overhaul is accompanied by re-branding.
A refresh is a change in the tone or style of your messaging, as opposed to the content, and may be associated with a visual brand refresh. A refresh is often driven by better insights into buyer preferences or a desire to create greater competitive differentiation.
If you are finding that minding your messaging is a pain point in your organization, you may also want to get a demo of the Messaging and Brand Module of the Akoonu Strategic Marketing Platform. It's a pretty slick way for marketers to develop, manage and share their messaging!