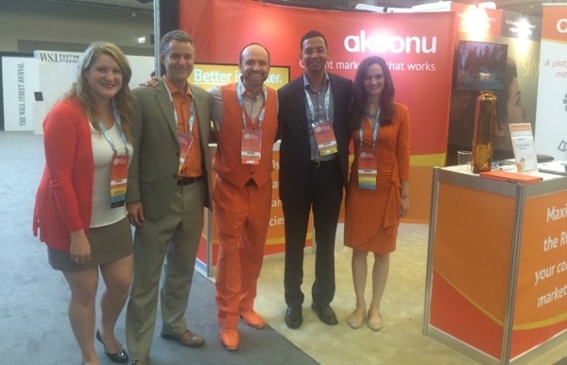 Joe Pulizzi sharing his love of orange with the Akoonu team.
Last week at Content Marketing World, we had the pleasure of exhibiting, listening to top industry influencers, and speaking with content marketing practioners from around the world.  The week was packed with insightful sessions, demos, conversations, keynotes, and parties.  All in all, it was a positive, energetic (and orange-filled!) environment filled with marketers who are genuinely passionate about content and eager to share stories and learn from one another.  Here are our top 5 insights from our week in the Content Marketing capital of the world!
1. Better is better
It's official.  The entirety of the content marketing industry has definitively ditched the "more is better" mentality for a quality over quantity one.  If you stop to think about it, this is actually quite a large leap in a short amount of time:
2013: "More is better!  For anyone to notice me, I have to fire out significantly more content than any of my competitors."
2014: "Wait a second, is this working? Everyone is pushing out tons of content.  Am I just another culprit to this noise pollution?  Why is all this content I'm creating not as effective as I thought it would be?"
2015: "Better is better.  I'm focusing on creating less but higher quality content that I can more effectively re-purpose through multiple channels.  Better content is getting me heard above the noise rather than contribute to it."
Almost every marketer we spoke with talked about wanting to write better content, not more of it.  Nobody wants to run the risk of distributing a lot of mediocre content that not only hurts brand credibility but also increases the risk of losing prospects early on in their buying journey.
2. A documented content marketing foundation
Joe Pulizzi shared some highlights from CMI's 2016 research and similar to last year, CMI found that marketers who have a documented content marketing strategy are 4 times more effective than those who don't.  A common theme we heard from attendees was the need to have a truly comprehensive foundation in order to develop better content.  Marketers know this requires work, but they are willing – and want – to do it.  The keys to this foundation: in-depth insights into your audience and a compelling brand – that together inform and improve the entire content lifecycle.
3. Content marketing truly is a blend of art and science
Yes, high quality content requires having a detailed, data-driven, and documented content marketing foundation.  It must be informative, relevant, and thought-provoking – this is what drives brand credibility and trust.  But quality content must also connect with your audience in a way that's enjoyable, personal, and engaging – this is what drives brand affinity.  John Cleese told us that before we call our writing final, we need to step away from it for a bit and tap into our "intelligent unconscious."  We'll give ourselves the chance to find our inner creativity and take something we've written to the next level when we come back to it.
4. More buyer-centric, targeted content
"Our content is too product-focused.  We need to be more buyer-centric."  We heard this statement from marketers, well, A LOT.  Marketers no longer view their content as a sales pitch opportunity.  Rather, they view their content as an opportunity to build (and help!) an audience – an audience comprised of actual people who have actual needs, goals, objectives, challenges, and concerns.  And by understanding their audience, they can create more targeted, valuable content.
5. "Content is a company's unifying force across all of its channels" (Rebeca Lieb)
We attended a get-together hosted by PR Newswire and had the opportunity to hear Rebecca Lieb present on how companies must foster a culture of content in the Internet of Things (IOT), where content is being consumed across all devices and channels at all times.  She said that in a culture of content, companies integrate the people, processes, and systems that play a role within the content lifecycle, whether it's creation, management, distribution, or optimization.  But she also said something that really resonated: in a culture of content, companies value the role of content.  Companies must ensure that, across all departments and functions, they're aligned on the importance of content and its impact on brand authority and the customer experience.  Because after all, as Rebecca noted, content comes from every public facing part of a company, and it's a company's unifying force across all of its channels.
A big thanks to the CMI team, who put on yet another great content marketing event!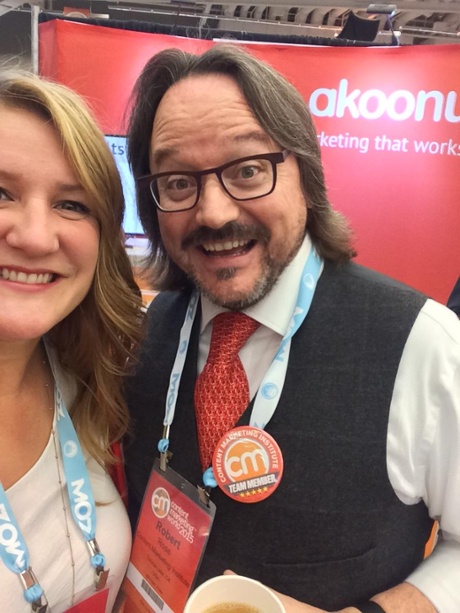 Akoonu advisor Robert Rose pumped up for Day 1 of #CMWorld.
Read our Whitepaper:
How to Create In-Depth Buyer's Journey Maps