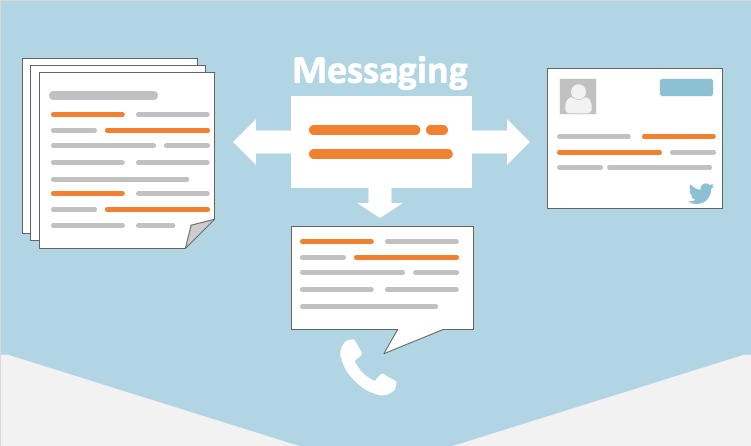 What reaction do you get when talking about "Messaging"?  Do people roll their eyes, stare at you blankly or run for the hills? Or do they jump for joy?  In most organizations, the answer is probably is a little bit of each depending on who you are speaking with.
"Messaging" is one of the most important marketing responsibilities, yet one of the hardest to consistently execute.  With the aim of connecting a company to the marketplace, it can serve as a foundation for content development and communications.  But in today's world, simply developing Messaging is not enough.  It can't just be published on the intranet, posted on the walls, and presented at Sales Kickoff.
With the ever increasing number of touchpoints spread across sales and marketing activities, it is critical that messaging is developed in a way that can be translated and applied consistently in daily execution across channels.  Without this, you will be delivering a fragmented experience to prospects and customers, and risk causing confusion in the market place.
Below are three principles of crafting messaging that can be applied across marketing and sales activities.
1. Use Targeted Messages
Messaging has evolved from one-size fits all to require messaging crafted to specific audiences.  If you are in a B2B market with multiple buyers within an account, each buyer will have different needs and concerns.  They may even speak "a different language", with their own lexicon and vernacular.  A message that resonates with a non-technical HR buyer will likely fall flat with an IT buyer.  Furthermore, needs and concerns will change through the buying process.  Messages that are good at driving engagement at the top of the funnel will not be appropriate later on in a sales opportunity.
This is why it is so important to have Targeted Messages — messages that are developed for each person each step of the way in their purchase process.  Buyer Personas and Journey Maps provide the details that you need to know in order to create targeted messages that will truly connect, engage, and satisfy buyers in each stage of their journey.
2. Consider Context 
Different formats and channels of communication present different opportunities and challenges.  Each have intrinsic properties that require consideration.  Would you say exactly the same thing in a voicemail as in a white paper?  No!  The white paper will likely be written in formal language, with complete sentence structure and using words and tone appropriate for long form content.  The voicemail needs to be short, and spoken in words that people actually use when talking, and delivered in an engaging verbal fashion.
Context determines how people communicate and consume information. If you ignore context, you risk losing their attention and engagement with your company.  Failing to recognize context causes a natural discord between Marketing and Sales in many organizations.  Marketing creates messaging and even targeted messages, but they are formulated in a single, written articulation that can not be directly applied in sales communications.  Instead of falling into the typical complaint pattern of "Sales doesn't use our messaging" and "Marketing doesn't provide useful things," seek opportunities to collaborate. Contextualize messaging into formats and communications that work across the marketing funnel, sales pipeline, and other communication types and engagement channels.
3. Consistent Application
Ask any campaign or Demand Gen manager, SDR or Account Executive and they will all tell you the same thing: it takes many communications, and many contacts before converting a lead, engaging in meaningful dialogue or earning the opportunity to have an in-depth conversation.  Marketers run multiple-touch campaigns to attract prospects, and proficient sales teams develop contact strategies with 10+ steps to engage with the right people.
Each one of these communications is an opportunity to satisfy a need or pique interest to get to the next step, but also an opportunity to dissuade a would-be buyer.  Individual communications don't need to all convey the same specific message, but should be intentional as to what it being said when and to whom.  Communications will have the biggest impact when targeted messages that address the needs and preferences of your different buyer personas are contextualized and delivered in the appropriate and preferred formats and channels.
Applying these three principles, you will find success in the never ending quest "to get the right message to the right person at the right time (in the right format!)".  Messaging that captures a solution's benefits, articulates the offering's value propositions, and distinguishes the  differentiation from competitors is a key building block of go-to-market strategies.  And targeting, contextualization and consistency pave the way to applying it across all your marketing and sales activities.