Sales Managers want to hire Sales Reps that consistently exceed quotas. The problem is, very few sales reps are capable of this performance on a regular basis. In fact, only 1 of every 250 sales people exceed their targets (HBR).
What does it take to hire and onboard teams of successful reps?  Sales teams face many challenges on their paths to meeting quotas, but few outrank the costs of sales rep churn.  We surveyed 200 B2B Sales Managers for more insight on what's impacting sales rep churn.
"Rep turnover is the nemesis of Sales. Improving your people churn rates brings huge value." —Gregg Loos, Chief Revenue Officer
The not-so-shocking consensus: onboarding new reps successfully is quite challenging. We asked these managers to share how many of their new reps achieve quota, and 31% said that less than half of their new reps fully achieve quota in their first year.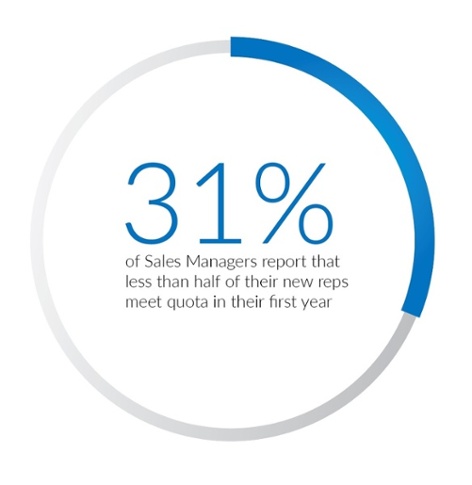 With ramping reps to quota attainment at such a steep climb, it's no wonder 82% of B2B decision-makers think sales reps are unprepared (Sirius Decisions).
The 5 most common reasons reps fail and tips for handling each
We asked these managers about the top reasons that reps at their companies fail.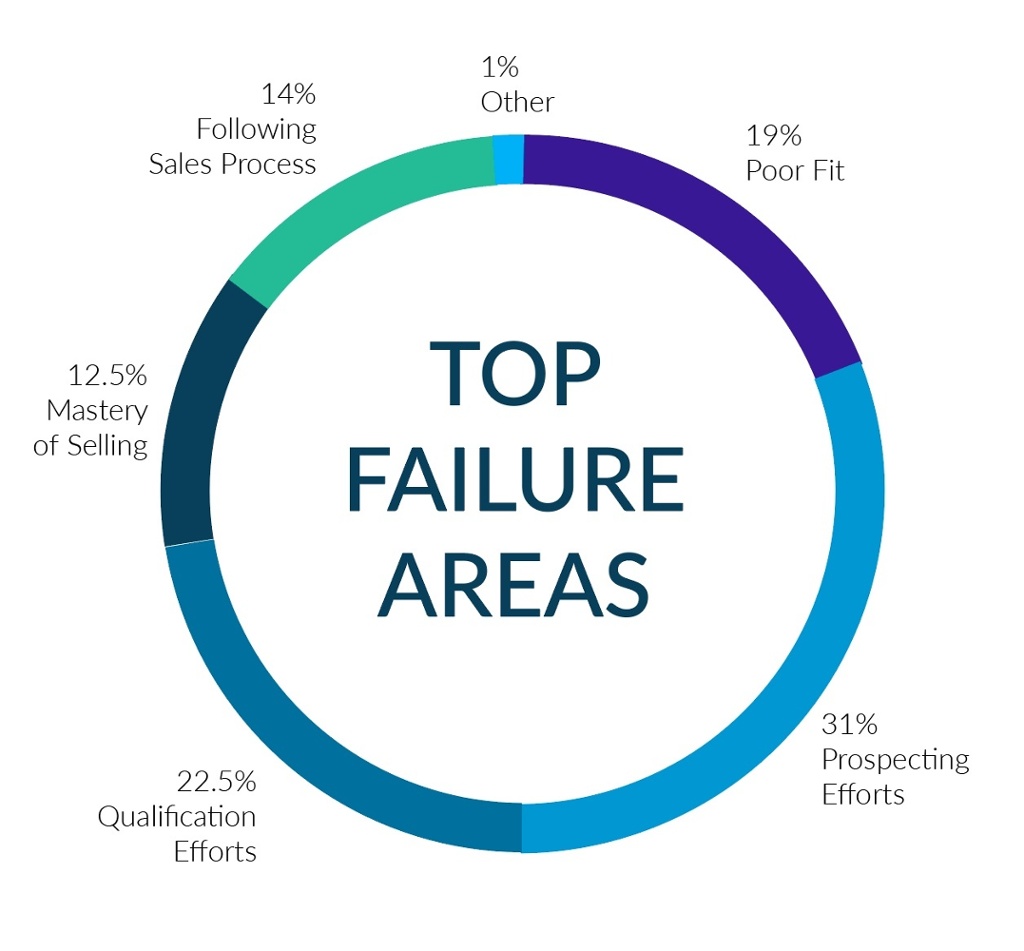 Poor Prospecting
Lack of quality prospecting efforts ranked as the top reason reps fail. Can you coach effort or work ethic? Sometimes no, but often yes. Tips:
Accountability is key to expecting effort. Some sales reps will hold themselves accountable to making quota, but you need to instill the importance of accountability for the rest. People tend to be the most motivated to do what they are held accountable to.
Make systems useful to reps. Forcing reps to manually enter data into CRMs causes frustration, and they'll likely avoid anything but the bare minimum. You can't coach what you can't see, right? Implementing systems that reduce redundant manual work is critical to making sure your reps have enough time to do the meaningful work that yields helpful performance analysis and illuminates coaching opportunities.
"People don't do what you expect but what you inspect." —Louis V. Gerstner, Jr., IBM Chairman and CEO, 1993-2002.
Poor Qualification Efforts
The second highest ranking reason for rep failure is lack of quality effort on discovery and qualification. If reps are consistently not asking the right questions or not following your qualification process, dig into why. Do they understand the sales process? Do they have easy access to the sales process?  Do they understand what resources can help them along the way?
Make your sales process quick to understand and easy to access. Integrate your sales process into the way you manage 1:1s, deals and coaching moments.
Make sure reps can access Selling Steps and Gates in their daily workflow.
Reinforce that they are more likely to make quota by spending time finding the qualified opportunity than by spinning their wheels on an account that will talk to them but is not qualified
Poor fit
Next up was poor fit to the sales role. Some level of poor hiring is unavoidable regardless of how good of a hiring manager you are.  If poor fit continues to rank as one of your top reasons, consider the following:
Start by considering what makes a good fit. Examine the profile of your reps achieving quota to identify the characteristics or experiences that distinguish them from others and make sure you are hunting for new reps that match that profile.
Re-evaluate your interview process to focus on confirming behavioral traits that lead to success in your business.
Following Process
The surveyed sales managers revealed that a lack of effectiveness and effort following the sales process is another common reason reps fail.  This is highly related to the top two reasons, and shares their tips:
Accountability is key to effort.
Make systems useful to reps.
Make the sales process quick to understand and access.
Mastery of Selling Skills
Selling skills are needed for any B2B sales job. If reps are consistently not learning and improving their sales skills, consider the following:
It's possible that you need to hire more senior people, even if they cost more. The cost of turnover is too high to ignore.
You might be hiring the right reps, but they need individualized coaching plans. Not every rep learns the same way, so make sure to tailor your training process to the ways your reps learn best.
For more tips on tackling turnover, read expert advice from our interview with Gregg Loos, careered Sales Executive.
See how Akoonu for Sales can help you prevent these failures.