With thousands of technology solutions available for each of the various stages of your sales and marketing needs, scoping out the requirements of your tech stack is more critical than ever. And creating your tech stack usually must go beyond what you already know, as there's thousands of options and new technologies emerging constantly.  Here are 5 simple steps and resources for getting started with planning your account based sales and marketing tech stack. 
Step 1:  Evaluate your readiness for ABM
Before jumping right into tools and solutions, make sure you're armed with all the informational aspects that fuel successful ABM.  Examples of information you need to know include:
A clear definition of your Ideal Customer Profile. TOPO has an excellent framework for this.
An understanding of all the buyer personas in your target account types
An understanding of the roles each of those personas plays in the purchase decision
See a checklist for the top 15 things you need to know about your buyers in this ebook: The Missing Link for ABM.
Step 2: Map out what you expect from each stage of your tech stack
What information or assets do you need to empower demandgen? Will Sales be able to take advantage of the insights generated? Create a matrix that includes:
What information each team needs at each stage
Possible sources of information
Frequency the information needs to be updated
People or processes each of these are dependent on
Step 3: Understand how each need relates to the rest
Turn your matrix from Step 2 into flow chart or map that outlines which data and process is impacted or related to other aspects. This is critical to understanding which elements of your technology stack ultimately need to integrate, creating smooth workflows and avoiding overlaps.  For example, if marketing is collecting valuable signals about buyers such as when they download spec sheets or whitepapers, would your Sales team find it helpful to know that a contact outside their already identified buying group at the same account is evaluating your solution? If so, you will want to make sure the data can flow from marketing to sales easily, and that there is salestech to empower your Reps to access and use this data in a timely fashion for selling.
Step 4: Make sure you've been thorough – don't be afraid to repeat step 3
One of the biggest missteps can be skipping details that seem obvious. From big to small purchases, it's important to know how they all integrate with each other.
For example, you want to empower your customer success and account teams with simple billing, so you select something like Bill.com or QuickBooks for billing and invoicing. Prior to implementing new technology, you need to understand:
What information does customer success need?
How will they access the information?
How will the alert features impact workflow?
Make sure you're thinking of everything from strategy to execution and how it impacts the day to day of the teams expected to use the software, insights or information.
Step 5: Segment and review technology solutions
Segment technology solutions by the results they achieve, such as strategy, execution and measurement.  Here's a few resources to help you get started with your search.
Nancy Nardin has a helpful overview of the sales tech stack ecosystem: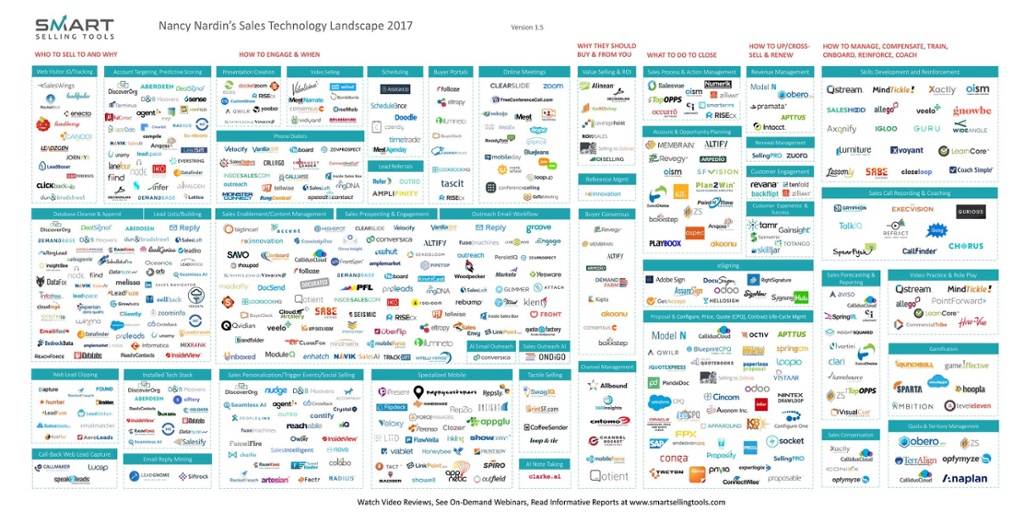 Scott Brinker's marketing tech stack with over 5000 solutions on it is a good inventory, but also a great reminder of how important it is to scope before you you look at tech.
DemandBase offers an excellent resources on how to segment different aspects of an ABM tech stack here.
Kissmetrics offer this high level overview of top resources for account-based marketing.